Half Girlfriend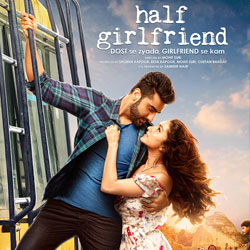 | | |
| --- | --- |
| DIRECTED BY | Mohit Suri |
| PRODUCED BY | Shobha Kapoor, Ekta Kapoor, Mohit Suri, Chetan Bhagat |
| STARCAST | Arjun Kapoor, Shraddha Kapoor, Rhea Chakraborty |
| MUSIC BY | Mithoon, Tanishk Bagchi, Rishi Rich, Farhan Saeed, Ami Mishra, Rahul Mishra |
SYNOPSIS
Half Girlfriend is a coming of age romance, based on the novel of the same name.
The story revolves around a Bihari Boy – Madhav Jha (Arjun Kapoor), who falls in love with an upper class Delhi-girl – Riya Somani (Shraddha Kapoor).
On the outside, the two of them have little, or nothing in common. But, love blossoms, in the most unexpected, unconventional way, when a vernacular Madhav, woos a high-profile Riya. The movie deals with the linguistic struggles between them and most importantly, sets out to define the 'grey' area of a relationships today! In a relationshiop, not in a relationship? Its complicated? The in-between space between two people – Half way there… More than a friend, less than a girlfriend … Riya decides to be Madhav's 'Half Girlfriend'.
Packed with phenomenal Music, promises to be the greatest love story on celluloid!